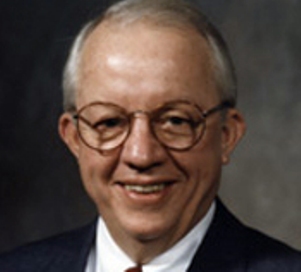 WAUSAU, Wis (WSAU) Dick Dudley, a well-known philanthropist and the builder of the Dudley Tower in downtown Wausau, has died. He was 89.
Dudley had a 50-year career in broadcasting. He was a former salesperson and General Manager at WSAU radio before moving to WSAW-TV for its first broadcast in 1954. He served as the television station's long time GM and President. Dudley is a former Presdient of the Wisconsin Broadcasters Association and was inducted into the Wisconsin Broadcasters Association Hall of Fame in 1989.
Dudley founded Dudley Investments, serving as CEO until his death Tuesday morning. His downtown office building, the tallest in downtown Wausau, was completed in 2007.
Dudley was born in Waupaca, but spent most of his life in Wausau. He had a distinguished career in the U.S. Navy, serving as a member of the Naval Air Corps. He was decorated with the Distinguished Flying Cross, the Presidential Unit Citation, and the Purple Heart. Dudley remained active in the American Legion after ending his military service.
UPDATE: Visitation will be Tuesday, September 3 at Brainard Funeral Home at 522 Adams Street in Wausau from 4pm to 8pm and Wednesday, September 4 from 9am to 11am at St. Michael's Church on Stark Street. A funeral service is planned for Wednesday, September 4 at 11am St. Michael's. Dudley will be burried at Restlawn Memorial Park.