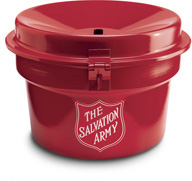 ALBERT LEA, Minn. (KFGO AM) -- Salvation Army Captain Jim Brickson is at an Albert Lea, Minnesota shopping mall, trying to break a bell-ringing record.
He must keep ringing until just after 11:00 tonight to break the state record of 36 hours.
But Brickson is going for the world record of 80 hours, which would be at 7:00 Friday night.
A Salvation Army captain in California is also competing to break the world record for bell-ringing.