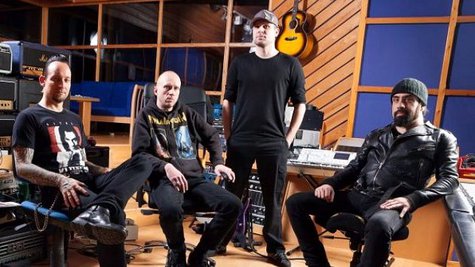 Volbeat 's Outlaw Gentlemen & Shady Ladies features a unique collaboration with King Diamond , frontman of Danish metal pioneers Mercyful Fate , and a cover of alternative rockers Young the Giant 's hit single, "My Body." As the band begins thinking about their follow-up to the release, frontman Michael Poulsen says he's looking to have more guest stars featured on the record.
"I sure hope…that I'll be able to bring on different guests on the next album," he tells ABC News Radio. "It is something that is really, really cool and is something that it's very inspiring for us as a band too, and it gives a lot of freedom and a lot of fun in the studio."
The singer adds he'd like to continue the tradition of throwing in a cover song on the group's next release, although he's not quite sure yet what track he'd want to choose. "It could be anything," he notes. "It could be that we cover something really old from the 50s or 60s, but who knows? The right song just pops up that just fits Volbeat. That's the beauty of music, you know, it's all about inspiration and following your heart."
Poulsen has said he plans to concentrate on writing new material sometime early next year.
Copyright 2013 ABC News Radio