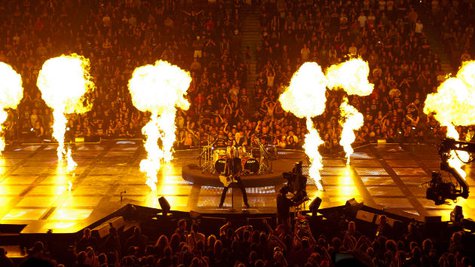 Metallica and Muse gave their fans a front-row seat to some massive shows with two new high-definition concert films released in 2013.
Metallica dropped their 3D film, Metallica Through the Never , in September. The flick featured live performances from Metallica, and a separate storyline that revolves around In Treatment actor Dane DeHaan , who portrays a member of Metallica's stage crew who's sent out on an urgent mission. The film's soundtrack, Metallica Through the Never (Music from the Motion Picture) , features 16 career-spanning tracks, including the hits "Enter Sandman," "Master of Puppets" and "One," which were recorded during 2012's concerts at Rexall Place in Edmonton and Rogers Arena in Vancouver.
Two months later, Muse's first-ever concert film shot in 4K ultra-high-definition arrived in theaters. Titled Muse -- Live at Rome Olympic Stadium , the movie documents the band's performance at the Olympic Stadium in Rome on July 6. Muse -- Live at Rome Olympic Stadium and its soundtrack includes performances of the hits "Supermassive Black Hole," "Uprising" and "Starlight," as well as new cuts "Madness" and "Supremacy" from Muse's latest album, The 2nd Law.
Copyright 2013 ABC News Radio