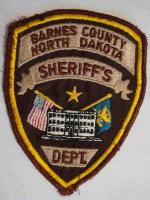 VALLEY CITY, ND (KFGO-AM) -- A man is facing a number of charges for throwing an axe through the front window of a bar in Sanborn west of Valley City.
It deflected off a sign and no one was hurt. The man had been kicked out of bar for what the owner describes as bad behavior. Terry Cornell, 39, was arrested at his home in Sanborn.
Deputies from Barnes County along with Valley City and Jamestown Police and the regional "SWAT" team made the arrest.
Cornell is on probation for a previous conviction in Cass County and has felonies on his criminal record.