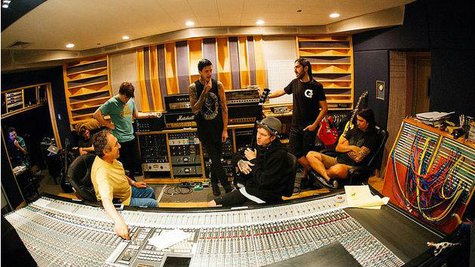 Of Mice & Men has revealed they'll be delivering their third studio album early next year. Frontman Austin Carlile says he hopes the upcoming release will resonate with the band's growing fanbase.
"Every track on the album was written with our fans in mind," he says in a statement. "I wanted to make every line come from a real life experience or struggle that I've overcome. It's raw, and I really believe our fans will see that I tore myself apart to present them with the most real sound and message we've come out with to date."
In addition to a new album, the band has announced that they've added a new member to the group: bassist Aaron Pauley . "As a musician, it's what you always want in a band; a bunch of amazingly talented, open-minded musicians who believe in taking the time and putting in the blood sweat and tears to make great songs, and who aren't afraid of making something different," notes Pauley. "I feel like I've found my true musical home with this band, and I can't wait for the world to hear this album."
Of Mice & Men's previous release, 2011's The Flood , debuted at #28 on the Billboard 200 albums chart, and has sold more than 125,000 copies to date.
Copyright 2013 ABC News Radio