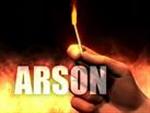 Three teens are in custody facing arson charges in Mahnomen.
Sheriff Doug Krier says they're accused of setting three fires Friday, all within a short period of time.
The first was in in a trash container at a city park. Firefighters were then dispatched a motorhome on fire and then a car that was fully involved. Both vehicles were destroyed.
Deputies spotted the three walking. They were stopped for questioning and admitted to setting the fires.
A state fire marshal says the fires were set by igniting combustable material in and around the vehicles.