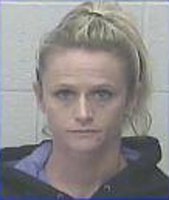 BISMARCK, N.D. (AP) -- The Bismarck School District has begun the process of firing a teacher accused of having sex with a student.
The School Board held a special meeting Tuesday and voted unanimously to immediately suspend 34-year-old Susan Duursma without pay. Superintendent Tamara Uselman says the board will now work with its attorney on setting up a hearing before an administrative law judge.
Duursma is accused of a sex act with a 15-year-old boy three times between March and July, in her home and in a vehicle. The Wachter Middle School physical education teacher faces charges of corrupting or soliciting a minor. Her attorney says she will plead not guilty and eventually will tell her side of the story.