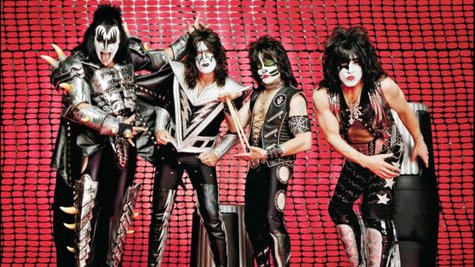 While only KISS ' four original members will be inducted into the Rock and Roll Hall of Fame on April 10 in Brooklyn, New York, nearly all the musicians who played with the band over the years will be in attendance at this year's ceremony.
Founding singer/bassist Gene Simmons revealed to Rolling Stone that he and longtime band mate Paul Stanley have invited the rest of the group's current lineup -- lead guitarist Tommy Thayer and drummer Eric Singer -- along with former KISS guitarist Bruce Kulick , to share their table during the festivities.
Kulick, who was a member of the band from 1984 to 1996 during its makeup-free era, tells Rolling Stone , "The fact that they want me at their table means the world."
The only major KISS alumni who won't be on hand are the late Eric Carr , who played drums with the group from 1980 until his death from cancer in 1991, and Vinnie Vincent , who was the band's lead guitarist from 1982 to 1984. Kulick says Vincent is "kind of the Howard Hughes of KISS."
Simmons and Stanley are ticked off with the Rock Hall for not inducting other KISS members besides them and founding drummer Peter Criss and guitarist Ace Frehley . Simmons also bad-mouthed Criss and Frehley in a recent Rolling Stone cover story , saying that the two rockers "no longer deserve to wear the paint," while adding, "The makeup is earned. Just being there at the beginning is not enough."
Kulick, Thayer and Singer, meanwhile, all feel that they deserve to be in the Rock Hall, with Tommy noting, "Even if I was an outsider, I would say that all of the guys that have been in Kiss over 40 years…should be inducted into the Hall of Fame."
Because of Simmons' and Stanley's ire at the Rock Hall and their feud with their old band mates, KISS will not be performing at the induction ceremony. Gene and Paul apparently initially suggested that all of KISS' ex-members jam with the group's current lineup at the event, something Criss and Frehley felt was extremely insulting.
In the Rolling Stone cover story, Criss declares, "How can you put me in the Hall of Fame and then tell me to go sit over there in the corner while another guy puts on my makeup and plays? That's an injustice. To the fans, too."
Copyright 2014 ABC News Radio