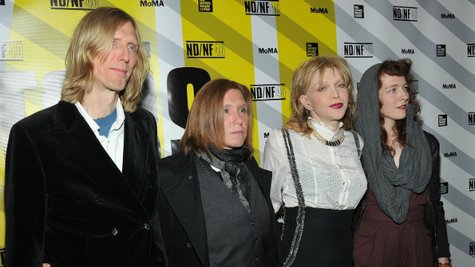 Last December Courtney Love hinted that a reunion of the classic Hole lineup could be in the offing. Well, now it's official. Love has revealed that she and guitarist Eric Erlandson , bass player Melissa Auf der Maur and drummer Patty Schemel have begun rehearsing new material.
"I started playing with Patty and Melissa and Eric, just to see how that was," Love told The Quietus . "We already played like three or four times in the last week."
Love reunited briefly with the musicians in 2012 at an after-party at the Public Assembly in New York City for the premiere of Schemel's documentary, Hit So Hard . Love played two songs with her former band mates: "Miss World," from Hole's 1994 album Live Through This , as well as a cover of The Wipers ' 1983 track "Over the Edge." It was the first time the four of them had played together in 15 years.
The last Hole release to feature Love, Erlandson and Auf der Maur was 1998's Celebrity Skin , which debuted at #9 on the Billboard 200 albums chart, selling 86,000 copies in its first week, according to Nielsen SoundScan.
Hole's most recent album, 2010's Nobody's Daughter , featured Love performing with a new lineup that included guitarist Micko Larkin , bassist Shawn Dailey and drummer Stu Fisher .
Copyright 2014 ABC News Radio