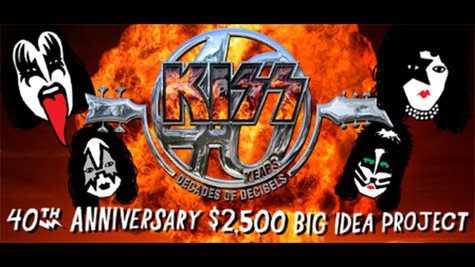 KISS has never been shy about their dedication to their fans, and their fans' dedication to the band. Gene Simmons says it's this diehard loyalty that brought him to Tongal.
No, Tongal has nothing to do with Gene Simmons' tongue -- it's a crowdsourcing company that allows fans and other parties to help companies add services that will make their customer base happy. And according to The Hollywood Reporter , Simmons thinks it's the ideal way for his band to figure out how to celebrate its 40th anniversary "in the most epic way possible."
The service is usually set up in a more corporate way, but the KISS Tongal Big Idea campaign will use a new division that makes use of a 140-character social media call-to-action, and will solicit ideas from KISS fans around the world.
"We've always been about the fans," said Simmons. " Tongal allows our fans to throw out ideas, and you know you're going to make something authentic."
Fans can also make some bank -- the top five ideas will be rewarded with $500 each.
To find out more, go to Tongal.com and punch "KISS" into the search box.