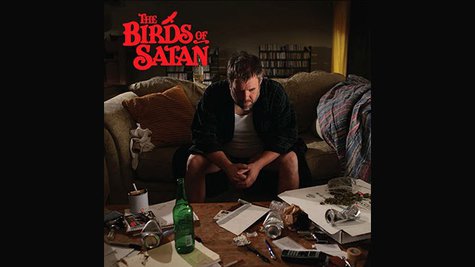 It's David Bowie, Queen, Paul McCartney and Janes Addiction all rolled up into one -- those are the words of Foo Fighters' Taylor Hawkins , describing the songs that bandmate Dave Grohl helped him work out for Hawkins' new Foo side project Birds of Satan .
Hawkins tells NME , "Dave was only there for two days, but when he came in, I'm like, 'I wanna write a song that's prog-rock fandango with insanity parts flying around everywhere.'" "I want it to sound like [Queen]'s 'March Of The Black Queen' meets 'Station To Station' by Bowie meets...'Band On The Run' meets 'Three Days' by Jane's Addiction. And we did it, in one day."
In all, Grohl helped out with several songs and also played drums.
Birds of Satan consists of Hawkins, Wiley Hodgden and Mick Murphy . The band's first album is self-titled and features guest appearances from Grohl, as well as Foo Fighter Pat Smear and touring Foo members Rami Jaffee and Drew Hester .
Birds of Satan will release its first album on April 15. It's available for preorder now, with all preorders receiving immediate access to an instant download of a song called "Thanks for the Line."
Here is the track listing:
The Ballad Of The Birds Of Satan
Thanks For The Line
Pieces Of The Puzzle
Raspberries
Nothing At All
Wait Til Tomorrow
Too Far Gone To See
Copyright 2014 ABC News Radio