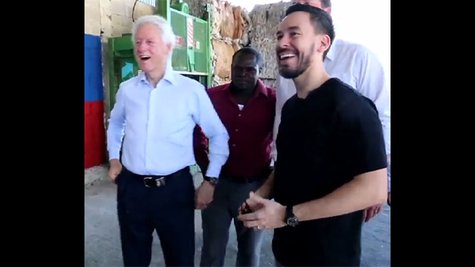 Mike Shinoda is a busy guy. The Linkin Park frontman in recent months has helped conceive and develop the band's new video game/music video for "Guilty All the Same," spent hundreds of hours in the studio working on their new album, donated stuff to charity auctions, is helping to teach an online college class at Stanford University and apparently also found time to go to Haiti with Bill Clinton .
A new video posted to Linkin Park's YouTube page features Shinoda and the former president visiting the site of Sustainable Recycling Solutions, a project supported by the Clinton Foundation and co-founded by Shinoda, which provides employment to Haitians by taking plastic waste products and recycling them into saleable items -- like Linkin Park t-shirts.
Since its beginning less than two years ago, SRS has paid more than half a million dollars to local workers, cleaned more than four-and-a-half million pounds of plastic off the streets of Haiti and recycled more than 113 million bottles.
You can find out more about the project at SRSHaiti.com
Linkin Park is also putting the finishing touches on a new album -- due out this summer -- and getting ready for their summer co-headlining tour with Thirty Seconds to Mars .
Copyright 2014 ABC News Radio