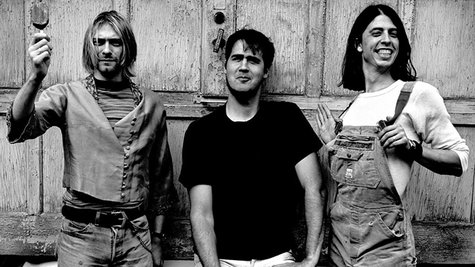 You'd think that merely getting the surviving members of Nirvana to play together would be enough to sell out just about anywhere, but it seems it's not so. Tomorrow's Rock and Roll Hall of Fame induction ceremony -- which will include Nirvana, KISS, Bruce Springsteen 's E Street Band , Peter Gabriel, Cat Stevens and others -- is nowhere near sold out, with many tickets being offered for little more than the cost of a movie and popcorn.
The Barclays Center in Brooklyn is the site of the ceremony, and it has a capacity of about 18,000. Roughly a third of the seats are blocked off on the side of and behind the stage, leaving approximately 12,000 seats. This is the largest seating capacity of any Hall of Fame induction ceremony, and it seems the Hall may have bitten off more than it can chew, sales-wise.
Though Ticketmaster shows no available seats, a quick look at StubHub tells the opposite story. There's more than 1,200 tickets listed, beginning at only $25 -- a little more than one-third of face value, plus fees, for the cheapest seats.
And it's not just the nosebleeds, either: Though the floor is VIP tables for inductees and their pals, a mere $134 can score a ticket in the loge, just inches off the floor and close enough to see what the inductees are noshing on for dinner.
Why are all these tickets up for grabs? One likely theory is that scalpers overestimated the demand and scooped up large numbers of tickets only to be faced with low interest and lots of inventory. It may also have something to do with KISS fans expecting a performance by the band's original four members, which was requested by the Hall of Fame but declined by Gene Simmons and Paul Stanley , who were offended by the Hall of Fame's refusal to induct other, non-original band members.
Copyright 2014 ABC News Radio