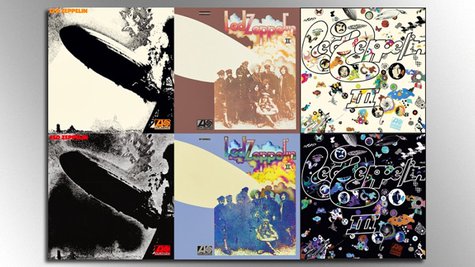 Led Zeppelin is giving fans a taste of the upcoming deluxe reissue of the band's 1969 self-titled debut album in a new teaser trailer posted online . The clip features audio segments from a previously unreleased October 1969 concert in Paris that will be included as part of deluxe editions of the album.
The video includes snippets of Zeppelin playing a hard-hitting medley of "Good Times, Bad Times" and "Communication Breakdown," along with footage of the band onstage and photos of some of the archival images featured in the package.
Led Zeppelin , along with Led Zeppelin II and Led Zeppelin III , will be reissued on June 3 in a variety of formats, including as a single remastered CD; a deluxe edition featuring a bonus disc of unreleased "companion" audio; vinyl versions of those two packages; and a Super Deluxe Boxed Set that includes the album and the companion audio, both on CD and on vinyl, plus a 70-plus-page book of rare and unseen photos, a digital download of the music and a high-quality print of the original cover art.
Copyright 2014 ABC News Radio