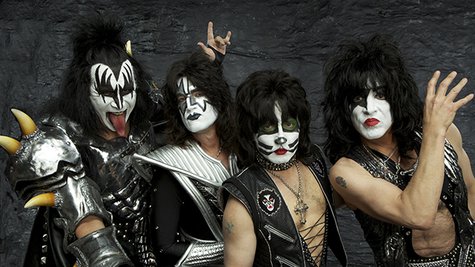 After 15 years of eligibility, KISS is being inducted into the Rock and Roll Hall of Fame this year. Unless you've been living in a cave you know that rather than being pleased by the honor, at least two of the founding members of KISS -- Paul Stanley and Gene Simmons -- are cranky about it.
The issues at hand are mostly twofold: The Hall of Fame will be inducting only the original four band members -- Simmons, Stanley, Peter Criss and Ace Frehley -- and not current and/or influential, non-founding members. Stanley tells ABC News Radio, "When I said, 'What about some of the other members?', I was told, 'That's a non-starter.' Well, that's arrogant. I play the guitar; these are pencil-pushers."
The other issue is that the Hall of Fame would only let the original four members play at the induction ceremony. Stanley proposed that the present lineup would play, and then Criss and Frehley could join them onstage. The Hall of Fame refused the request, so Stanley and Simmons decided not to play at all. Stanley tells ABC News Radio, "The tail doesn't wag the dog, and I've been a big dog for a long time, and [the Hall of Fame is] a little tail, as far as I'm concerned."
Stanley says KISS is having the last laugh: "[The Rock Hall] rented out a very big hall for their party, banking on us playing, and the fact is they're close to giving away tickets at this point. Karma's a b*tch."
The exchanges between the Hall and the band have led to weeks of public lashing by Simmons and Stanley, mostly about the dubious stature of the Hall of Fame and how -- and whom -- it chooses to induct. Stanley tells ABC News Radio that the Hall of Fame has a "superficial and questionable nature. It's not the Rock and Roll Hall of Fame of the people, it's a small group of people who basically trademarked a name, and they decide who they want in their club and who they don't."
Stanley also points out that KISS is celebrating its 40th anniversary this year, and as far as he's concerned, the band is already in the Hall of Fame. "You can't possibly last 40 years and sell the number of albums we have and tour really at our whim, and sell the amount of tickets we do and not be in the Rock and Roll Hall of Fame," he says. "We are -- it's just not this little club."
The Rock and Roll Hall of Fame induction takes place tonight at the Barclays Center in Brooklyn, New York.
Copyright 2014 ABC News Radio