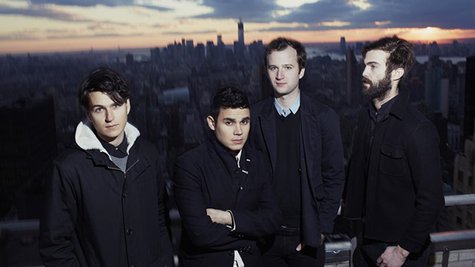 Vampire Weekend is heading to Broadway...in a sense. The band's multi-instrumentalist, Rostam Batmanglij , has contributed music to a new version of This Is Our Youth , a play by Kenneth Lonergan and starring Michael Cera and Kieran Culkin .
Though it's not a musical, music is used to set mood in the play, which opens in Chicago in early summer and then moves to New York's Broadway at the end of summer.
According to The Hollywood Reporter , Cera plays a 19-year-old who has stolen $15,000 from his rich father and uses it to buy drugs from Culkin's character.
The play starts previews in Chicago on June 10, with New York previews beginning on August 18.
In the meantime, Vampire Weekend recently announced extra dates added to the end of their tour.
Here are the new tour dates:
6/01 -- Tulsa, OK, Diamond Ballroom
6/02 -- Kansas City, MO, Crossroads
6/04 -- Milwaukee, WI, Riverside Theatre
6/05 -- Chicago, IL, UIC Pavilion
6/06 -- Rochester Hills, MI, Meadow Brook Pavilion
6/09 -- Buffalo, NY, Buffalo Outer Harbor
6/10 -- Charlottesville, VA, Telos Wireless Pavilion
6/12 -- Raleigh, NC, Red Hat Amphitheater
Copyright 2014 ABC News Radio