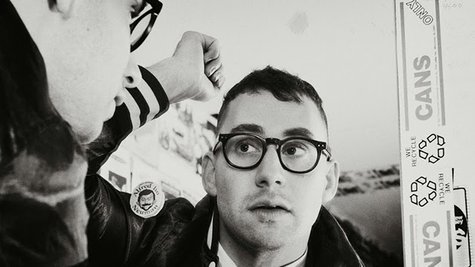 fun. 's smash album Some Nights came out in 2012, and there's no word on when we can expect the follow-up. But that doesn't mean the band's members are just sitting around: guitarist Jack Antonoff , in particular, has been busy co-writing songs with female pop stars like Taylor Swift and Sara Bareilles, and now he's gearing up to release his first solo project.
Antonoff's already released the first single from that project -- it's called " I Wanna Get Better ." But he didn't put it out under his own name: it, and the album, were recorded under the name Bleachers . Why not just use his actual name? The guitarist tells ABC News Radio, "I thought about it, but calling it my name felt a little bit...too loaded...it felt like it was putting too much spotlight on the fact that it was a 'solo project,' and not...the fact that it was its own body of work. So I wanted to call it something because I just wanted it to be its own thing."
Antonoff worked with a variety of collaborators on the Bleachers project, including Yoko Ono , and Vince Clarke , a former member of three top '80's synth-pop groups: Depeche Mode , Yaz and Erasure . He chose the name Bleachers because it was the working title of one of the songs on the album, which he's still putting the finishing touches on. But what about the next fun. album? What's the status of that? They're "working on it," is all Antonoff will say about that.
While we wait for new music, the members of fun. are working together on their favorite cause: gay rights. It's something they've been supporting for several years now, but they've just been named "equality champions" by the U.N.'s gay rights campaign, Free & Equal. Though all three members of fun are straight, Antonoff says fighting for equality for gays is so important to them because it's, as he puts it, "undoubtedly the human rights issue of our time."
"To me, it's just a no-brainer," he tells ABC News Radio. "When you look at political issues, there's so much gray area and there's so many ways looking at things, but when it comes to human rights -- when it comes to the rights of innocent people -- to me that's just completely a black and white issue, and there's no other way to look at it, from my perspective: we all deserve the exact same rights."
Standing up for the rights of others comes naturally to Jack: in fact, it runs in his family. "My grandfather was very involved in the civil rights movement, he actually marched with Martin Luther King in Washington," the guitarist tells ABC News Radio. "And I just remember hearing all these stories growing up, and he really impressed upon me that -- during a time when things are shifting and it's very easy to sort of be still, and kind of get stuck in the 'This is how it's always been' type of place -- that's when it's really important to speak up... that's when it's really important to make a difference."
As part of their work with the U.N., Jack and the rest of the band are working to raise $250,000 for a homeless shelter in Detroit, which needs more beds for all the lesbian, gay, bisexual and transgendered youth who need a place to stay. "About 40% of all homeless kids are LGBT youth, and that's because they're being kicked out of their homes, so there's all these amazing shelters all over the country that are catering to these kids specifically," Antonoff explains.
Overall, Antonoff says he's happy to see that the tide has turned from even a decade ago, and casual homophobia just isn't as widespread as it once was.
"When I think about being in high school, you know, anything that was different was called 'gay.,' he recalls. "I had blue hair back then, people used to call me gay and, and these were terms that was socially acceptable. And I've noticed an amazing shift where that's just not really okay anymore, which is fantastic."
Coipyright 2014 ABC News Radio