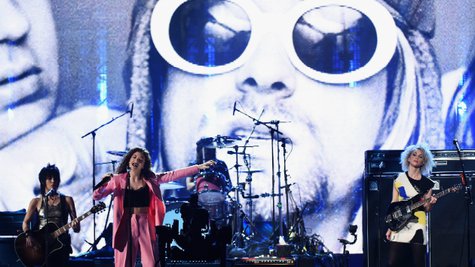 In a blog post on Monday, entitled "Punk Rock Gender Parity," Nirvana bass player Krist Novoselic called the band's set last Thursday at its Rock and Roll Hall of Fame induction -- in which a succession of female rockers stood in for late frontman Kurt Cobain -- a "good tribute to Kurt and what Nirvana was about."
"I am so happy about the Rock & Roll Hall of Fame event and how it went so well," Novoselic writes . "This, for me, is a bittersweet notion as we all miss Kurt so much. But considering we were inducted, the show had to go on. Joan Jett was first on my list to be out front. I spoke to Dave [ Grohl ] about it and he ran with the idea of having all women lead. We felt that would be a good tribute to Kurt and what Nirvana was about."
"It was a good balance of females as Joan Jett and Kim Gordon are matriarchs of Punk Rock, while St. Vincent and Lorde represent the powerful up-and-coming women in Rock," he continues. "Every one of these performances nailed a Nirvana tune in their own way."

As previously reported, fronting a band comprised of Nirvana's surviving members, Jett performed "Smells Like Teen Spirit," St. Vincent performed "Lithium," Sonic Youth 's Gordon performed "Aneurysm" and Lorde performed "All Apologies."

The final song was a particular stand-out for Novoselic. "I had fun on the last song because I got to play accordion and all of our guests were on stage for a gala closing."
HBO will air an edited version of the Rock and Roll Hall of Fame induction ceremony May 31.
Copyright 2014 ABC News Radio