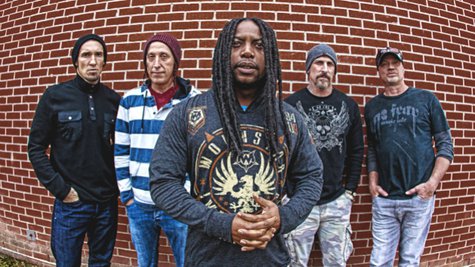 Sevendust has debuted a new song from its fan-funded acoustic album, Time Travelers & Bonfires , out today.

The song, "Bonfire," is currently streaming exclusively on Billboard.com . Although the album is mostly acoustic and a sort of followup to the band's 2004 acoustic live album Southside Double-Wide , Billboard reports that electric guitars appear on the album as well.
"We went in full guns blazin', man," frontman Lajon Witherspoon tells Billboard . "We wanted to come different and bring the different sound and still have that acoustic element there, but give it some salt, too, and keep it in that Sevendust vein that we're still gonna be able to have a good time and stand up and jump around, and not do it in the same vein people are normally used to."
As previously reported, Time Travelers & Bonfires mixes new version of half-a dozen older Sevendust tunes chosen by fans with six new songs written in the studio during the recording sessions. "We didn't go in with any material. We wrote songs while we were there, and that's what's the magic was about this," Witherspoon tells the publication.
The album's production was funded by fans through the PledgeMusic website, and Witherspoon says it won't be the last time the band goes that route in financing an album.
"We'd seen so many bands using this Pledge thing, I just said, 'Y'know, what, guys, it'd be awesome to see if we could do this and take it out of the machine...and see what would happen,'" he tells Billboard . "It amazes us. We felt like it was our family and friends out there helping us to do this; it's their album as much as it is ours, and that's what's cool about it. I can't wait to do this again."
Sevendust is on road performing acoustic shows in support of the new record. Two new dates have been added to the end of the previously-reported trek: a July 23 show at the House of Blues in Cleveland, and an August 2 show at Citizen Tribune-Jefferson Federal in Morristown, TN. For the full list of dates, visit Sevendust.com .
Copyright 2014 ABC News Radio