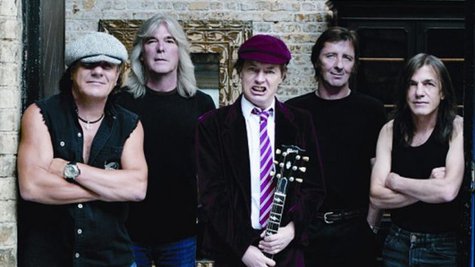 Is AC/DC ready to stop shaking their fans all night long? Rumors out of Australia are suggesting that the band may call it quits due to the illness of a band member, allegedly guitarist Malcolm Young .
Sources close to the group tell Billboard that they're "unaware of any break-up or change" in the band's status. However, The Sydney Morning Herald reports that the band could announce its retirement as soon as today because Young, who turned 59 March 31, is "unable to continue playing," and the group made a pact that if one of them was unable to continue, they would disband.
Then again, The Australian quotes a music industry source saying AC/DC is scheduled to begin recording a new album in May in Vancouver.
So what's really going on? There's no word yet from any official band source regarding any of the speculation, but an unconfirmed blog post claims that three weeks ago, Young suffered a stroke that left a blood clot on his brain, rendering him unable to play as he used to.
AC/DC's last album, 2008's Black Ice , was a huge success, and the tour that followed was one of the highest-grossing in history, according to Billboard .
Copyright 2014 ABC News Radio