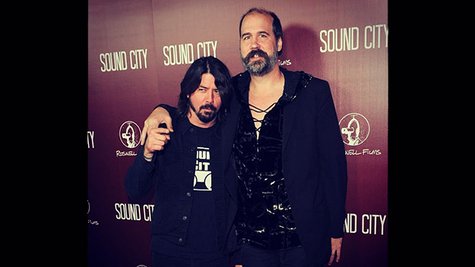 Dave Grohl didn't take lightly the decision for Nirvana to perform at the Rock and Roll Hall of Fame induction ceremony last week. In an interview with Rolling Stone , the Nirvana drummer admits that neither he nor original bassist Krist Novoselic had played Nirvana songs since Kurt Cobain 's death and that they hand't "even start[ed] talking about playing until about eight weeks ago. It just seemed practically impossible. It was hard to imagine jumping onstage and playing those songs."
Grohl says that getting ready for the performance took "a little bit of musical preparation, and a lot of emotional preparation."
And the all-female guest singers? It seems that women were the courageous ones. Grohl says he approached what Rolling Stone called "a handful of A-list male rock stars," all of whom said no. "[They] were nervous," says Grohl.
Joan Jett was the first to agree. "She took it on like it was her calling," says Grohl. "She's everything that Nirvana stood for. She's a powerful, rebellious, musical force of nature." Jett learned every song on Nevermind . The idea for an all-female-fronted tribute followed, with Sonic Youth 's Kim Gordon , Annie Clark and Lorde signing on.
Grohl, Novoselic and Nirvana touring member Pat Smear met everyone in New York City a few days before the induction to rehearse, and Novoselic admits he had to buy a "Nirvana tab book a week before to re-learn my parts."
He wasn't the only rusty one. Grohl says rehearsals nearly did him in. "I haven't played those drum parts since I was 25 [and] I'm 45 now. We played for 10 hours each day. After the first night of rehearsals, I limped home, had two glasses of wine, three Advil, took a hot shower and slept for 10 hours. That's a coma for me, because I never sleep."
The band members -- including all the guest singers except Lorde, who had to fly to California for Coachella, plus two additional singers, J.Mascis of Dinosaur Jr. and John Cauley of Deer Tick -- ended the evening a few miles down the road at a club in Brooklyn, where they pounded out a 19-song Nirvana set. Novoselic hints that Nirvana fans might be in for a VERY big treat, as the entire after-party was being taped with multiple cameras. "I think they were bolted to the ceiling," says Novoselic. "I don't know what Dave is going to do with it. But he's a film guy. He'll figure it out and make something good."
Nirvana fans, stay tuned.
Copyright 2014 ABC News Radio