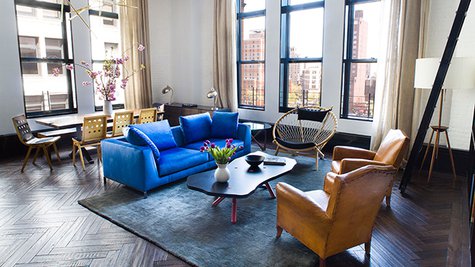 Not only does Coldplay get headlines and photo spreads, now the apartment of one of its members does, too.
It seems Jonny Buckland has good taste in home furnishings. The Coldplay guitarist's New York pad is featured in Elle Decor , which glowingly describes the West Village loft as "literally and aesthetically clean," "elegantly minimal and flooded with light," "striking" and "radically updated."
A photo layout showing the apartment is available on Elle Decor 's website and includes eight pictures of the space, including one with Buckland and his wife and two young children. Should you wish to feel closer to Coldplay, there's plenty of information on the furnishings and even the name of the firm that designed the space.
The article notes that Jonny Buckland spends most of his time in the U.K. but brings his family to their New York City home several times a year, sometimes for more than a month at a time.
Coldplay has just announced a small string of what they're calling "intimate" live shows in relatively small venues.
Here are the Coldplay concert dates:

4/25 -- Cologne, E-Werk
5/5 -- New York, Beacon Theatre
5/19 -- Los Angeles, Royce Hall
5/28 -- Paris, Casino de Paris
6/12 -- Tokyo, Dome City Hall
7/1 -- London, Royal Albert Hall
Copyright 2014 ABC News Radio