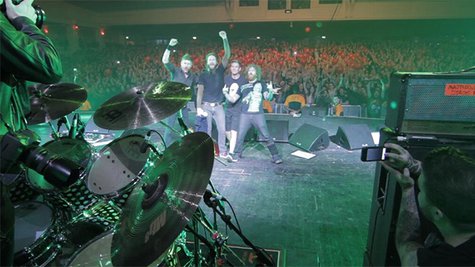 Mastodon has released the first single from its forthcoming album, Once More 'Round the Sun . The new track is called "High Road," but it's apparently not at all about taking the high road. In a statement, Mastodon guitarist Bill Kelliher admits he wrote "High Road" "on a day off while we were on tour in Luxembourg. I was sitting in this rainy city on a Sunday, and nothing was open. I felt like I needed to write something to reflect how I was feeling [so] I started banging on a guitar."
The chorus is "You take the high road down/I'll take the road below you."
The song has slow, percussive riffs in the beginning and progresses to soaring vocal/guitar blending. It's streaming now on Mastodon's official website, MastodonRocks.com .
Once More 'Round the Sun is set to arrive in retail and digital outlets on April 29.
Copyright 2014 ABC News Radio