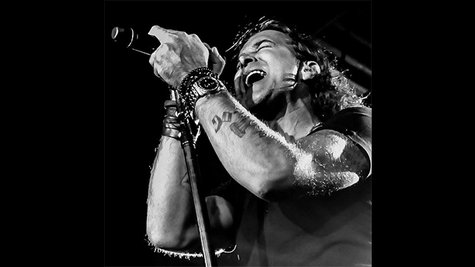 Scott Stapp is off to Europe to begin a short string of live dates. The singer -- and Creed frontman -- is playing these gigs in support of his solo album Proof of Life , which is heavily autobiographical and deals with Stapp's issues with substance abuse and suicide attempts, and eventually finding religion.
Not only is the substance of the material heavy, but the material itself is as well -- Proof of Life 's songs often feature Stapp full-on screaming. The singer tells ABC News Radio that he's just about reached the point where it doesn't physically hurt to sing those songs. "It doesn't hurt, but this new album is definitely challenging to sing," Stapp admits. "I've learned how to pull it off through the process, and I did some things I didn't even know I could do. But it definitely takes every ounce of energy that I have to do it live."
Does it take as much effort to sing Creed tunes? Stapp tells ABC News Radio, "It did, back [when Creed was new], but I guess I've played those songs so much over the years that my voice got conditioned and used to it. Plus I'm more trained now and understand the proper ways to sing. I'm not just screaming from my throat, so that makes the older material relatively easy for me to sing now, especially comparatively speaking to the new stuff."
Stapp's next U.S. date is at the Christian music festival Sonshine on July 19 in Wilmar, MN.
Copyright 2014 ABC News Radio