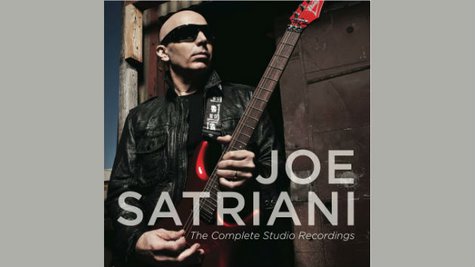 Joe Satriani fans have a whole lot to be excited about, as the guitar virtuoso -- and sometimes Chickenfoot member -- has just released a massive box set gathering together remastered versions of all of his studio albums, and he also has penned a memoir that will be published in early May.
Released this past Tuesday, The Complete Studio Recordings includes Satriani's 14 studio releases, stretching from 1986's Not of This Earth through last year's Unstoppable Momentum , as well as a disc of extra songs titled Additional Creations and Bonus Tracks .
Satriani tells ABC News Radio that compiling the box set and remastering the records so that they fit together sonically was quite a challenge.
"We went back and we mastered [the catalog] like someone was going to listen to all the records in one big session, or they were going to go from record one to seven to two to eleven…and they'd have to work together," he explains. "So, we restored some of the more crunchy earlier masterings to their more open, generous high-fidelity states that they were before they went to the mastering lab."
The 57-year-old guitar whiz says that what made the project particularly difficult was that his albums were recorded in so many diverse formats and types of media over the years.
Satriani also notes that the box set came together hand in hand with his autobiography, Strange Beautiful Music , which will hit stores on May 6. Rather than being an average rock star tell-all, the book focuses more on the technical aspects of the creation of Joe's albums. Satriani says the process of writing the book helped him when it came time to revamp his catalog.
"I would say the reexamination of the stories behind each of the albums did sort of inform me to go back and to remaster that particular album, or each of them," he points out, "and just kind of restore them to the original potential that I always felt they had."
As work progressed on the compilation and the book, Satriani says he eventually realized it would be cool to release both around the same time. The release of the box set and memoir also happens to coincide with a break from his ongoing solo tour in support of Unstoppable Momentum .
"So, we finally wound up with that perfect storm," Joe declares. "The artist is out there. He's got a book, he's got a remastered catalog and he still has a new record that's active out there."
Besides the standard version of The Complete Studio Recordings , which features the CDs housed in miniature album sleeves and packaged in a clamshell box, a unique collectible digital version of the retrospective also is available. A "Chrome Dome" USB edition of the collection can be purchased exclusively at Satriani.com that features a chrome-colored plastic replica of Satriani's shaved head, which holds USB drives boasting high-definition digital audio files of his entire catalog.
"It's really freaky. I can't really look at it," admits Joe about his replica noggin. "I mean, I looked at it so I could approve it and make sure that the whole thing worked to hold onto the USB drives, but I put it right back in the box."
Copyright 2014 ABC News Radio