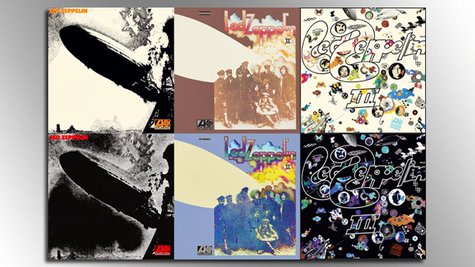 The BBC is offering a sneak peek at Led Zeppelin 's reissues of their first three albums.
Two previously-unheard recordings from the band have been previewed by the BBC: an early version of "Whole Lotta Love," which will be featured in the re-release of Led Zeppelin II , and Zeppelin's take on the blues classics "Keys to the Highway/Trouble In Mind," which will be included in the Led Zeppelin III re-release.
The early version of "Whole Lotta Love" is different from the one with which fans are familiar. For example, the vocals were re-recorded for the version that was ultimately released.
Jimmy Page spearheaded the reissue project because, as he tells the BBC, "I don't want to die and have somebody else do it." After revisiting the band's music, he says, "it's undeniable that we're good."
Zeppelin singer Robert Plant does have a regret or two regarding his approach to their music as they recorded it. He laughs, "My enthusiasm sometimes got in the way of finesse. I listen to it and go, wow, why didn't I shut up a bit?"
By the way, don't get your hopes up that the reissues will lead to a Zeppelin reunion. Plant says the chances of the group putting on a live show again are "zero."
Page says, "I'm sure people would love to hear it. I'm not the one to be asking, I don't sing."
Zeppelin, minus the late drummer John Bonham , reunited in 2007 for a concert at London's O2 Arena that served as the basis for their live film/CD Celebration Day .
Led Zeppelin , Led Zeppelin II and Led Zeppelin III all will be reissued in various configurations on June 3.
Copyright 2014 ABC News Radio