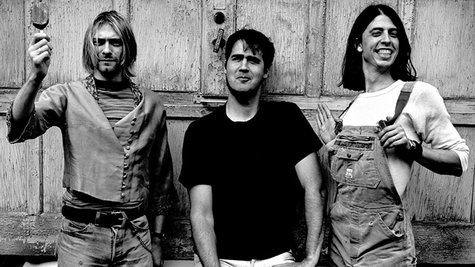 This year's Record Store Day was a lovefest of vinyl goodies from dozens of artists, but no one proved more popular than Nirvana , at least in terms of selling singles. The band -- fresh from their induction to the Rock and Roll Hall of Fame -- offered a 7-inch vinyl disc of "Pennyroyal Tea," with a b-side of "I Hate Myself and Want to Die."
Both tracks were unique: "Pennyroyal" had never been offered on vinyl, while "I Hate Myself and Want to Die" had originally been slated for release in 1994, but was shelved when Kurt Cobain committed suicide. This year's Record Store Day fell just days after the 20th anniversary of Cobain's death, a coincidence that may have contributed to the success of the Nirvana release.
"Gates of Steel" by Devo and the Flaming Lips came in at #2 for vinyl single sales, and the Cure and Dinosaur Jr. 's "Just Like Heaven" was #3. David Bowie had the #4 slot with "1984,," and Love & Rush closed out the top five with "7 and 7 Is."
In the full-length vinyl division, the top-ten sales list includes Afghan Whigs, Tame Impala, Joy Division, Flaming Lips and The Ramones .
Here are the Billboard vinyl charts for the week ending April 20:
Singles:
1. Nirvana -- "Pennyroyal Tea"
2. Flaming Lips & Devo -- "Gates of Steel"
3. The Cure & Dinosaur Jr -- "Just Like Heaven"
4. David Bowie -- "1984"
5. Love & Rush -- "7 and 7 is"
6. Frank Zappa -- "Don't Eat the Yellow Snow"
7. Pantera & Poison Idea -- "The Badge"
8. Paramore -- "Ain't It Fun"
9. Fleetwood Mac -- "Dragonfly"
10. Garbage -- "Girls Talk Sh**"
LPs:
1. Childish Gambino -- Because the Internet
2. Afghan Whigs -- Do to the Beast
3. Notorious B.I.G. -- Life After Death
4. Bruce Springsteen -- American Beauty
5. Jimi Hendrix -- Live at Monterey
6. The Grateful Dead -- Live at Hampton Coliseum
7. Tame Impala -- Live Versions
8. Joy Division -- An Ideal For Living
9. Flaming Lips -- 7 Skies H3
10. Ramones -- Meltdown With the Ramones
Copyright 2014 ABC News Radio