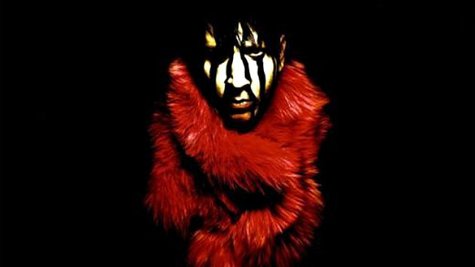 If you're experiencing a little shiver of fear at the opening of the new TV series Salem , it's because there's an experienced hand at work. As reported first by Entertainment Weekly , Marilyn Manson has contributed some shock-rocker expertise to the sinister theme song of the show.
The tune is slow, threatening, very signature Manson. It's called "Cupid Carries a Gun" and was the last song finished on Manson's forthcoming album. Salem score composer Tyler Bates was lending a hand to Manson in the studio, and co-wrote the song. The singer told Entertainment Weekly he respects the ethic behind the WGN America seriesand so was happy to help out. "The occult and witchcraft is so often used in cinema with a heinous disregard for even researching its origins," says Manson. "However, I liked the themes of Salem . It looks at the witch trials without being cliche."
As recently reported, Manson will be making an appearance on another TV series, Sons of Anarchy . The series' creator, Kurt Sutter , recently tweeted , "listening to one of @marilynmanson new songs. potent. creepy. cool. look for him in season 7. he'll be the guy riding the dragon." Sutter had previously hinted, also via tweet, that Manson would be contributing some music to the seventh and final season of the FX show.
Marilyn Manson has more than a dozen acting credits, most recently for the TV series Eastbound & Down and Once Upon a Time .
Salem airs Sundays at 10 p.m. ET on WGN America.
Copyright 2014 ABC News Radio