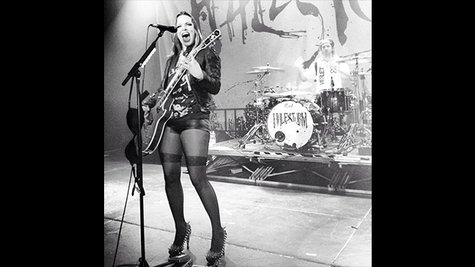 As previously reported, the members of Halestorm got together in the studio in January and have been working on new material -- and they've got a couple of new songs to prove it.
The first song is called "Heartbreaker" and it made its debut in Nashville at the end of March. The second song -- " Mayhem " -- followed a few days later. Both songs have been played a number of times during Halestorm's live shows: various versions have popped up in fan-shot footage on YouTube.
It's obvious that the time in the studio has paid off for the band. A few months ago, Halestorm drummer Arejay Hale told Billboard , "With all the touring we've been doing we really haven't had a chance to all sit down and write together as a band. It's kind of tough on the road because our days are pretty swamped and it's hard to get into that creative mentality."
At the time, Hale told Billboard , "We're gonna go [into the studio] and have the mentality of, 'It's crunch time, we've got to write an album.'"
Judging from those two songs, Halestorm's studio time was well spent. In a recent interview with the U.K.'s Phase magazine , singer Lzzy Hale lists her first goal for 2014 as "release an album."
Halestorm's previous release, 2012's " The Strange Case of..., " peaked at #15 on the Billboard 200 albums chart its first week out. The album's first single, "Love Bites (So Do I)," scored the band a Grammy award for Best Hard Rock/Metal Performance.
So far, there's no title or release date for the new Halestorm album.
Copyright 2014 ABC News Radio