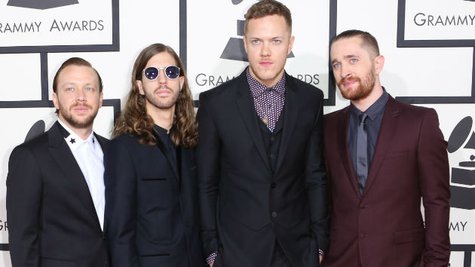 Imagine Dragons have become one of the biggest bands in the world over the past year, and notably, they've managed to do it without sticking to one identifying sound.
The band's singles "It's Time," "Radioactive," "Demons," and "On Top of the World" -- many of which you've heard performed many times the past few months on singing competition shows -- are all very different from one another. So different, in fact, that you may not even be aware they're all by the same band. But according to the band's frontman, Dan Reynolds , it's the individual songs which tell them what kind of sound to go for.
"It's kind of like, 'What is this song asking for?' y'know?" he tells ABC News Radio. "Like, for instance, when we wrote 'On Top of the World,' it just felt like it needed a lot of world music sounds. And, you know, when we wrote 'Radioactive,' it just sounded like something that called for kind of a new, electronic sound, you know?"
"I think that as a band, we really write songs in its most raw element and then, production-wise, we just add what we feel like that song is asking for," Dan adds.
This eclectic approach makes their album Night Visions a very satisfying listening experience, according to Dan. "When you listen to the songs next to each other, it takes you through a journey and that's kind of the most important thing to us: to put out a certain amount of songs that a listener can listen to, back to back, and feel like, by the end of it, they have taken this Imagine Dragons journey," Dan says. "As cliche as that sounds, it's the best way I can describe it."
This approach seems to have worked for Imagine Dragons: they've won a Grammy and an American Music Award, and they're currently up for 12 Billboard Music Awards.
Copyright 2014 ABC News Radio