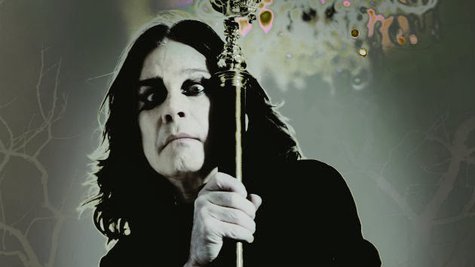 Ozzy Osbourne worries about the future state of rock and roll. In the new issue of Kerrang! , the 65-year-old rocker -- who has arguably engaged in some of the most outrageous "rock star"-type behavior in history -- agrees with the interviewer's question about the lack of leadership in the hard rock world these days. "That might be a very true statement," says Ozzy. "I honestly don't know who's going to carry the flag in the future, but I wish someone would hurry up. None of us are getting any younger, you know."
When asked about his pick for ultimate rock star, Osbourne surprisingly chose David Bowie , calling him "always original with his image and music. Nowadays, I have a problem telling who's in the band and who's in the crew — no one looks like a rock star!"
Ozzy Osbourne was named to the magazine's list of "50 Greatest Rock Stars in the World Today" and boasted that he was simply because "I'm Ozzy Osbourne!" He also cited his recent reunion with Black Sabbath and the success of the band's album, 13 , as being contributing factors.
Osbourne and Black Sabbath are slated for a trio of headlining dates in the United Arab Emirates and Russia in a month or so, before playing the festival circuit in Europe this summer.
Copyright 2014 ABC News Radio