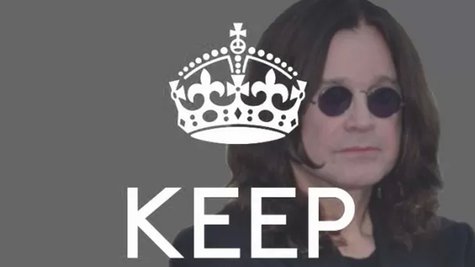 There's a movement afoot to have the prince of darkness knighted. British Ozzy Osbourne fan Helen Maidiotis is on a quest to have Osbourne awarded the honor, and has amassed a number of signatures of folks who agree with her mission.
On her "Knighthood of Ozz" Facebook page , Madiotis posts supportive messages from many fans and well-wishers, including Ozzy's daughter Kelly Osbourne , who tweeted, "This really needs to happen." There is a link to a Causes.com online petiton with just under 5,000 signatures and the following mission statement: "I am campaigning for Ozzy Osbourne to receive a Knighthood, as he thoroughly deserves this honour not only for all his charity work but for all his years entertaining us and helping make a difference to peoples' lives who have looked up to him."
Madiotis also admires Osbourne's "strong will and determination to get through the many obstacles that he has come across...helping to get him Knighted would be our gift to him."
According to the Birmingham Mail , Madiotis first had the idea to pursue knighthood for every member of Black Sabbath , but that a U.K. authority advised her that it would be extremely difficult to get multiple knighthoods, so she has set her sights on Ozzy, "as he is the voice of Sabbath."
Madiotis also tells the paper, "As Black Sabbath are set to perform at Hyde Park, London, on July 4, it would be a fitting tribute to Ozzy if we were to reach our target in the days following their performance."
A handful of musicians have been granted the title of knight over the past two decades, including Paul McCartney , Mick Jagger , Elton John . Bob Geldof and Bono also received knighthoods, although their titles are honorary because they are Irish citizens.
Copyright 2014 ABC News Radio