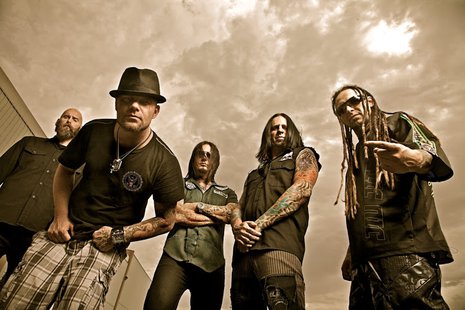 Five Finger Death Punch teased the release last week, and Monday, they officially released the video for their song "Wrong Side of Heaven." The visual is a powerful narrative of the circumstances facing war veterans, focusing on the emotional issues that plague them when they return home from battle.
In addition to the video, the band has partnered with veterans' support groups to help returning soldiers who're dealing with brain injuries, post-traumatic stress disorder, homelessness and more.
"We wanted to do something impactful to help our veterans in need," the band said in a statement. "With this video and the accompanying campaign we hope to shed more light on the seriousness of their issues."
Five Finger Death Punch has also launched a website, 5FDP4VETS.com , where you can get more information on how you can help vets, as well as make a donation. You can also see the "Wrong Side of Heaven" video there, as well as on 5FDP's VEVO channel .
Death Punch guitarist Zoltan Bathory tells ABC News Radio that the hard-hitting nature of the "Wrong Side of Heaven" video was intentional. "The main goal we wanted to accomplish [with] this video [was] to really hit people in the chest," he says. "The entire video was about the emotional load and exploiting what PTSD really means and what's going on in post-war situations with these soldiers."
Bathory says he screened the video for those whose opinions mattered most, his soldier friends. "I have a lot of friends who are military or ex-military and have PTSD," he says. "Every single one of them practically broke down watching this video. So we knew we did actually accomplish [something] and hopefully it will bring public awareness [to the issue]."
You can bet Five Finger Death Punch will be pulling out the stops to help vets when they hit the road for their previous-announced fall tour with Hellyeah and Volbeat . You can see the dates now at FiveFingerDeathPunch.com .
Follow @ABCNewsRadio
Copyright 2014 ABC News Radio