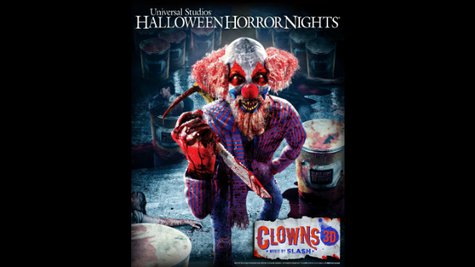 We know Slash loves horror -- the guitarist's production company, Slasher Films, even produced an original horror flick last year called Nothing Left to Fear . Now comes word that Slash will be writing the first original score for Universal Studios Hollywood's annual Halloween Horror Nights attraction.
The attraction -- a 3-D maze full of special effects -- has used rock music before, including the music of Black Sabbath last year. In fact, in 2013, Slash told ABC News Radio he took his children to the Sabbath maze. But this is the first time a rocker has written an original score for the attraction.
The theme of this year's maze is fear of clowns, and guests will find themselves wandering through "Sweet Licks Frozen Clown Pops Family Amusement Center," a dilapidated roadside attraction and former ice cream factory run by deranged siblings and their mad clown father.

"I'm a HUGE fan of Halloween Horror Nights and was inspired to partner with Universal Studios Hollywood because they are the founders of creating extreme horror," says Slash in a statement. "I've been composing music for as long as I can remember, and jumped at the chance to be an integral part of this year's event and create the original score for this creepy clown maze. I can't wait to see the fans' reactions and will be first in line to experience the maze myself."

Clowns 3D Music by Slash will open Friday, September 19, at Universal Studios Hollywood.
Follow @ABCNewsRadio Copyright 2014 ABC News Radio