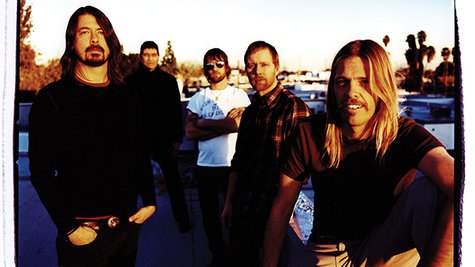 Dave Grohl has never needed much of an excuse to dress up in women's clothes in a video: he's appeared as an a teenage girl in pigtails for the Foo Fighters ' " Learn to Fly " video, and in Lady Gaga -style stage wear in the band's "This Video Sucks" contest teaser . But this time, he's gotten dolled up in drag for a good cause.
Like many celebrities, Grohl and the Foo Fighters have posted a video of themselves accepting the ALS Ice Bucket challenge, dumping ice water on their heads and then nominating other people to do the same, all to raise money for and awareness of ALS, or Lou Gehrig's disease.
In the Foo Fighters' clip, Grohl re-enacts the famous scene from Brian De Palma's 1976 movie Carrie, in which the title character is tormented by having a bucket of pig's blood dumped on her head just after she's been elected prom queen. In the Foo Fighters' video, Grohl, in a prom dress and glittery tiara, stands next to "prom king" drummer Taylor Hawkins , while guitarist Pat Smear and bass player Nate Mendel plot to dump ice water on their heads.
You can see the video on the Foo Fighters' YouTube channel. The band then challenged John Travolta , who starred in Carrie , and novelist Stephen King , who wrote the book on which the movie is based, to do the same; they also nominated Jack Black.
Another rocker getting into the ice bucket act was Anthrax drummer Charlie Benate , who took the Ice Bucket Challenge on stage in front of 140,000 fans in Bogota, Colombia on Monday night. He then challenged former Pantera lead singer Phil Anselmo , Sepultura guitarist Andreas Kisser and producer Jay Ruston , who produced Anthrax's Worship Music.
Follow @ABCNewsRadio
Copyright 2014 ABC News Radio