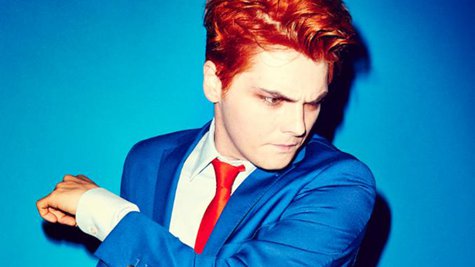 If you've been mourning the demise of My Chemical Romance , here's some news to brighten your day. Former frontman Gerard Way is out with his first solo effort.
Hesitant Alien is available for pre-order now at GerardWay.com on either CD or vinyl. Whichever you choose, you'll also receive an exclusive tee-shirt, and a limited edition Hesitant Alien zine hand-drawn by Way, of which only 5,000 were printed. You'll also score instant downloads of the album tracks "Action Cat" and "No Shows." The music video for the latter song also premiered today. The album officially hits retailers September 30.
Way says the theme behind the songs on Hesitant Alien is "struggle, beginnings, finding a newness in the mundane and the abstract," and name-checks Damn Albarn of Blur and Gorillaz , Pulp frontman Jarvis Cocker , and Frank Black of the Pixies as inspiration. "There was no concept and no call-to-arms," Way says.
Way will deliver his first public performances of songs from Hesitant Alien at the Reading and Leeds music festivals in the U.K. next week.
Here's the Hesitant Alien track listing:
"Bureau"
"Action Cat"
"No Shows"
"Casting Shadows"
"Millions"
"Zero Zero"
"Juarez"
"Drugstore Perfume"
"Get the Gang Together"
"How's It Going to Be"
"Maya the Psychic"
Follow @ABCNewsRadio
Copyright 2014 ABC News Radio