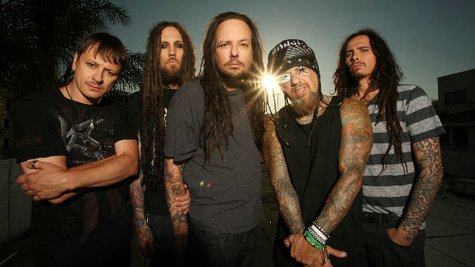 Earlier this month Korn asked fans to submit videos of themselves talking about their experiences with bullies and abusers, for inclusion in a video for the band's new song "Hater." Well, it looks like the band as abandoned the fan-submission idea, because the video is out now, and all it shows is footage of the band performing on the road. The video does, however, include Korn fans, in the sense that there are plenty of shot sof them going nuts in the audience at concerts in the U.S., Russia and Poland.
"In the past year we've done over 75 shows in 21 countries," the band says in a statement to Rolling Stone . "We wanted to share the experience with all the fans who couldn't make it, so we took all of this footage we had from these shows and put it all together. The great crowds of Korn fans everywhere is what makes it special for us."
The version of "Hater" that you hear in the video isn't a live one, though: it's the studio version, included on the recently-released expanded edition of the band's album The Paradigm Shift . In June, Korn frontman Jonathan Davis told Billboard that "Hater" is "the first empowering song" he'd ever written.
Follow @ABCNewsRadio
Copyright 2014 ABC News Radio