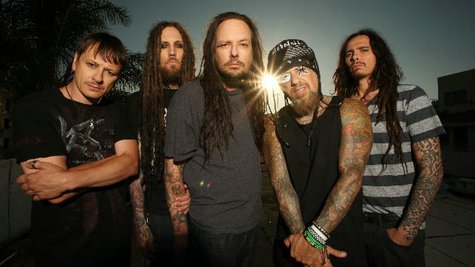 Korn is back with another video for their latest single, "Hater." This one is the promised fan-assisted clip; earlier this week the band released a video for the song that showed them performing live.
The new video features footage submitted by fans in which they share personal experiences of being bullied, abused or hated, and how that affected them.
"Almost everyone has felt bullied, pressured and beat down in their life by their haters," says frontman Jonathan Davis in a statement. "This video helps to give a public voice to some of the challenges real people have faced." The band's message: self-harm and suicide are never solutions.
The video opens with montage of fan clips, inset in a graphic of a TV set. "I've been bullied ever since I can remember," one fan says. "I was beaten, raped and abused," says another. It continues with images suggestive of suicide and self-harm, interspersed with further fan clips as the song plays, concluding with positive fan messages saying, among other things, "It's OK to be different" and "Don't let a bully or a hater, in the end, ever make you feel less about yourself."
"Hater" comes from the expanded World Tour Edition of Korn's most recent album, The Paradigm Shift .
Follow @ABCNewsRadio
Copyright 2014 ABC News Radio