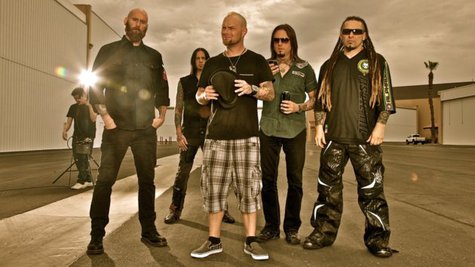 Five Finger Death Punch will be making changes to some information about homeless veterans presented in the band's video for "Wrong Side of Heaven," after the Washington Post caught factual errors in the video.
As previously reported the band has raised about $135,000 from an Indiegogo campaign to benefit veterans who suffer from homelessness, PTSD and other issues launched in conjunction with a new video for the song "Wrong Side of Heaven," which the band made to raise awareness about the challenges veterans face when they return from combat.
Definitely a worthy cause -– but the Post caught some mistaken information in the video, and a rep for the band tells the paper 5FDP will make changes.
Among the mistakes -- a text scroll at the end of the video says, "There are 300,000 homeless veterans sleeping on the streets." But the Post cites U.S. Department of Housing and Urban Development statistics saying that number was closer to 58,000 on any given night in 2013. And the number of homeless vets is actually decreasing -– not rising, as the video suggests. In addition, some of the organizations that are mentioned toward the end of the video –- such as The Armed Forces Network and The Nellis Air Force Base -– don't actually provide aid to veterans.
10th Street Entertainment, a PR firm that works with Five Finger Death Punch, tells the paper the band is "working on correcting the errors in the crawl at the end of the video." In the meantime, "Wrong Side of Heaven" has been viewed roughly two million times in the two weeks it's been on YouTube .
Follow @ABCNewsRadio
Copyright 2014 ABC News Radio