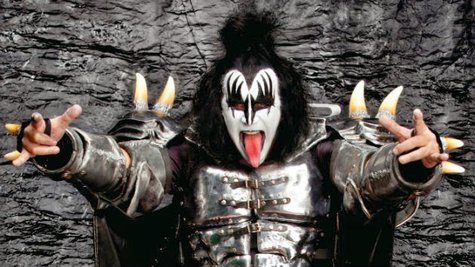 Gene Simmons is celebrating the 40th anniversary of KISS with a summer co-headlining tour with Def Leppard , but the bass player thinks he's an endangered species. In an interview with ABC News Radio, Simmons discussed the state of rock music today and said, "My heart goes out to every new band because there is no record industry [anymore]."
Simmons doesn't blame the industry or "corporate takeovers" for the failure -- he tells ABC News Radio "it was your next-door, freckle-faced college kid who decided he did not want to pay for something he was getting. It's called file-sharing and downloading. That technology killed the entire record industry."
Simmons is clear that it's not only the pocketbooks of existing rock bands that are affected, it's an entire new generation of bands who will never get a chance. "Your 15-year-old friend who's in the next Beatles or the next KISS is not going to have a chance in hell of getting there. And who killed that chance? The freckle-faced college kid."
File-sharing isn't his only beef about the industry today; Simmons notes that the artistry of album packaging -- for which KISS was a pioneer, with visually stunning albums that often contained bonuses like posters, mini record awards, tattoo sheets and photo booklets -- is a thing of the past. "It is of a different era [now]," he said. "Once upon a time, a record was an event, and it was a piece of art. You spent time designing it, you spent time photographing and all the rest of it. And people used to put it on their mantle piece as art. And those days are gone."
Continuing to do their best to produce collectible art, KISS will soon release KISSteria , a 34-vinyl record set housed in a rolling road case. The set will contain a boatload of other goodies, including 12 mini posters, bumper sticker, dominoes, a turntable mat, vinyl cleaning cloth, set of four lithographs and more. The sticker price is $1,749, and pre-orders are being accepted now .
Follow @ABCNewsRadio
Copyright 2014 ABC News Radio