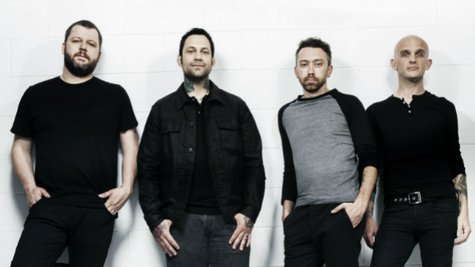 Rise Against frontman Tim McIlrath and guitarist Zach Blair say when the band got together to work on its latest album The Black Market , they were looking to bring some different flavors into the mix.
"We wanted to come into this record and make some different choices… We're still Rise Against but I feel like I can hear different tones and sounds [on this album]," McIlrath tells Music Radar . Blair adds, "You want to stay true to what makes the band the band –- but as an artist and as a guitar player, you're always looking to reach out. It sounds generic but it's so true."
Of his decision not to go overboard with solos and such, Blair says, "For me, it's about remembering that there are three other guys in this band… This record is the first time there's really been a chance for me to kind of show off… But I'm a team player and I'm in a band that has good songs that have a message -– and that message is much more important than me going, 'Hey, look what I can do!'"
McIlrath also weighed in on how he and his Windy City band mates have managed to become very popular without sacrificing their ideals. "You can't write a hit song that replaces the character or integrity of your band," he explains. "Once you give that up, you don't get it back… We've created a trust with our audience. They know who we are."
Rise Against will kick off a two-month North American tour August 31 with an appearance at the Made in America festival in Los Angeles.
Follow @ABCNewsRadio
Copyright 2014 ABC News Radio