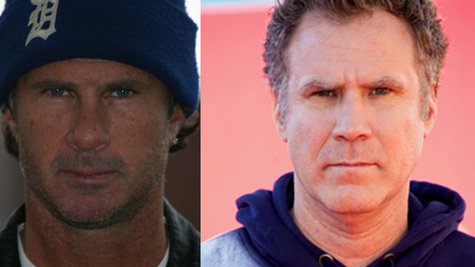 There's a friendly rivalry brewing between Red Hot Chili Peppers drummer Chad Smith and his Hollywood doppelganger, Will Ferrell .
It began earlier this week, when Ferrell participated in a Reddit "Ask Me Anything" session and declared, "It has been acknowledged many times that myself and Chad Smith, drummer for the Red Hot Chili Peppers, share a resemblance to each other. A lot of people think that it's me playing for the Red Hot Chili Peppers. But that would be an insult to Chad Smith. The truth of the matter is there is no Will Ferrell. Only Chad Smith."
The Anchorman 2 star subsequently released an Instagram message in which he told his fans, "Hello, I just wanted to let you know I had a great time on Reddit. It was great to finally clear up the fact that I am Chad Smith."
Chad has responded with his own Instagram message in which he lays down a musical challenge for Ferrell. He tells Ferrell, "It's Chad, stop impersonating me. In fact I need you to drum battle, me and you. I've seen your skills, you don't got 'em, let's go, golden cowbell, winner, boom!"
We do know Ferrell can play a cowbell, as evidenced by his famous Saturday Night Live "Behind the Music" sketch spoofing Blue Oyster Cult .
Copyright 2014 ABC News Radio