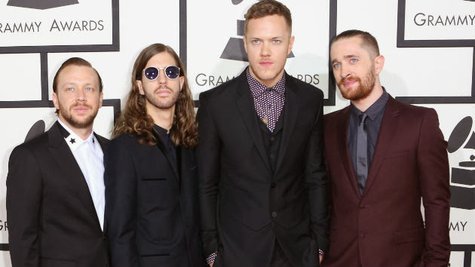 After performing taking on a trifecta of huge TV appearances -- Saturday Night Live , the Grammys and Sunday night's Beatles tribute -- the guys in Imagine Dragons now say they'll never, ever be nervous again.
Speaking to MTV , bass player Ben McKee said, "It's crazy that the three most high-pressure gigs of our career all occurred in one week," referring to the fact that the Grammys were January 26, the Beatles tribute was taped on the 27th and their SNL appearance took place on February 1. As a result, drummer Dan Platzman adds, "Whatever gland in the human body that produces the chemical that makes you feel nervous, that gland has died in all of us."
So which one of those gigs were the most stressful? The Beatles tribute, which saw the group performing an acoustic version of the Fab Four classic "Revolution." Lead singer Dan Reynolds laughs, "That was the most nervous any of us have ever been, because you're performing a Beatles song in front of Paul [ McCartney ] and Ringo [ Starr ]...and that's just so intimidating."
In fact, that taping was so stressful that by the time the guys took the stage for Saturday Night Live , they were barely fazed by it.
" SNL was a dream come true for all of us," Platzman tells MTV. "And when the moment came it was just so natural, and that freaked us out. Like, 'This shouldn't seem so natural!'"
Copyright 2014 ABC News Radio