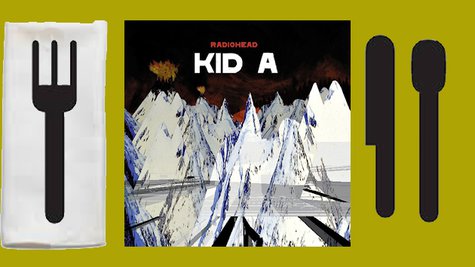 Foodie Radiohead fans, listen up: a chef in Detroit has scratched an itch you may not have even been aware you had, and is hosting a 10-course dinner set entirely to the ten tracks of Radiohead's Kid A .
According to the Huffington Post , Kyle Hanley -- who is the chef at Detroit Golf Club -- studied music before he became a chef and says he hears "textures and colors" when he listens, which makes it natural for him to then associate music with food. His sidekick sommelier for the evening, Joseph Allerton , listened to Kid A exclusively while researching and selecting wine pairings for the evening's dinner. Courses include maple sugar seared duck breast set to "Optimistic," lamb chops with crispy pig ear in blood orange reduction during "National Anthem" and pan seared diver scallop with lemongrass ponzu while playing "Everything in Its Right Place."
Hanley named the dinner "A Night With Kid A ," and the entire menu is available for viewing on the event's Facebook page , where you can also read the complaints of the many Radiohead fans who have been shut out of the sold-out soiree. Chef Hanley tells ABC News Radio that he is just "overwhelmed" by the response, saying, "I really just thought it was gonna be my parents, my friends and a couple of hipster fans. The response has been incredible."
Good news for those fans who were shut out -- Hanley is already planning another Radiohead dinner and is accepting names for its wait list.
A Night With Kid A will take place at Detroit's Elizabeth Theater on February 19.
Copyright 2014 ABC News Radio