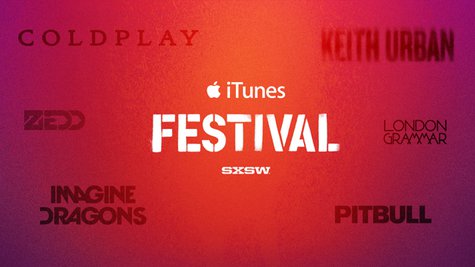 For the past seven years, iTunes has staged a free month-long concert series in London called the iTunes Festival, which has featured over 400 artists. Now, a scaled-down version of the festival is finally coming to the U.S., with a bunch of top talent scheduled to perform.
The five-night event will take place from March 11 through the 15 at ACL Live at the Moody Theater in Austin, Texas, home of the concert series Austin City Limits. It will coincide with the annual music-industry blowout event known as South by Southwest. On the bill: Imagine Dragons and Coldplay , plus rapper Pitbull , EDM star ZEDD and country star and American Idol judge Keith Urban . More acts will be announced soon.
You don't have to travel to Austin to enjoy the event. The whole thing will be available for free as a live and on-demand stream via the iTunes store on your Apple device, Mac or PC, as well as on the iTunes Festival app.
Britian's Press Association quotes Coldplay drummer Will Champion as saying, "We're really looking forward to the first ever iTunes Festival in the US, and are thrilled to be asked to play on the opening night. It's a great honor for our band and we hope everyone has a fantastic time."
Copyright 2014 ABC News Radio