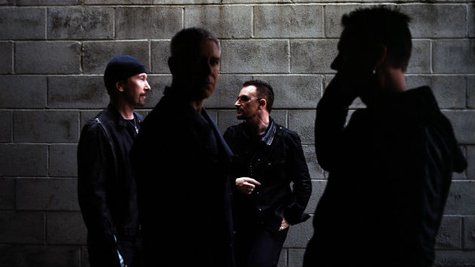 U2 fans have been anxiously awaiting the release of the band's next album, but they better not hold their breath. Guitarist The Edge admits they're "in the studio still" and hints it may be a while, telling Rolling Stone , "We really want the songs to be right."

In an interview with the magazine, The Edge says the group has about 30 songs "that we're excited about, in various states of being finished." He says of those songs, "six or seven are mixed and ready to go" and that there is "a common thread" to the songs. "The period of music, in our lives and history, when we really came into being, turned on by music, the seeds that made us want to be in a band," he says.

The new album was expected out last December, but is now tentatively set for a summer debut. The Edge tells Rolling Stone , "We really want the songs to be right. That's the only reason why we're not on tour -- because we're so good at starting, not so good at finishing. That's always the way it's been."

Asked if the new album has a title, The Edge replies, "Not yet. We have a few. That's the problem."

U2 flew back to Dublin following their Monday night appearance on The Tonight Show Starring Jimmy Fallon . The band performed their new tune "Invisible" on the frigid outdoor observation deck atop the 70-story GE building in NYC. After the outdoor performance, U2 retreated indoors to Fallon's couch for their second-number, an acoustic version of their Oscar-nominated song "Ordinary Love" from the movie Mandela: Long Walk to Freedom .
Copyright 2014 ABC News Radio