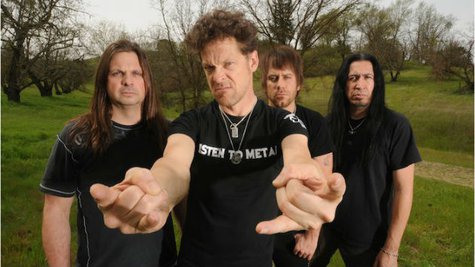 Ex- Metallica bass player Jason Newsted 's band Newsted has pulled out of Australia's Soundwave festival tour.
The cancellation was so abrupt that Newsted's equipment had already arrived in Brisbane for the tour's scheduled opening show this past Saturday, Australian website Faster Louder reports.
"Due to private and personal circumstances, we sincerely regret to inform you that The NEWSTED Band is unable to perform in February & March as scheduled," the band announced on its Facebook page . "Our deepest apologies for any inconvenience to you. We are all gutted by this turn of events."
The cancellation comes just days after Megadeth withdrew from the tour amid rumors of a clash between Megadeth's Dave Mustaine and Soundwave promoters over Newsted's appearance with Megadeth on some Aussie dates.
As previously reported, Newsted had been slated to play a supporting slot on two of Megadeth's shows in Australia when the show's promoter abruptly dropped Newsted, added the band Whitechapel , and issued a statement claiming that the switch came "at the request of Megadeth."
That turn of events started a rumor that Dave Mustaine was still holding a grudge against against Metallica, from which he was fired in 1983. But Megadeth's tour manager, Jim Carroccio , denied those reports, telling ABC News Radio, "Dave Mustaine is not responsible for booting Newsted off. Dave did not put him on the bill and did not take him off the bill."
Subsequently, Megadeth withdrew from Soundwave. Now, Newsted has done the same.
Soundwave organizer A.J. Maddah wrote on Twitter , "I am heartbroken that @JasonCNewsted will not be joining us at #SW14 We both look forward to bringing you a headline tour later this year."
Copyright 2014 ABC News Radio