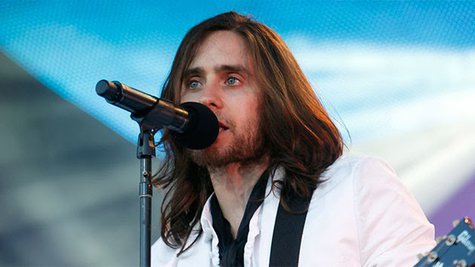 Rock stars are supposed to be all about sex, drugs and rock 'n roll, throwing TV sets out of hotel windows and getting caught in compromising positions. Well, don't tell that to Jared Leto , who's been exhibiting some decidedly non-rock star behavior lately. First the 30 Seconds to Mars frontman invited his mom to be his date to this Sunday night's Academy Awards, where he's up for Best Supporting Actor for his role in Dallas Buyers Club . Now he tells Britain's Q magazine that getting up to mischief on the road with his band just doesn't happen.
Asked to recall the last time 30 Seconds to Mars was thrown out of a hotel, Leto tells Q, "Never. We pride ourselves on being really nice." No sex-and-drug-fueled after-parties, then? Sadly, no. Says Leto, "We're pretty boring, to tell you the truth! You'll find us reading a book after a show."
That's not to say that Leto wasn't a bad boy at one point in his life. When asked about the last time he did something illegal, he tells Q that as kids, he and his brother did get in trouble from time to time. "We didn't think about things being illegal or not," he recalls. "Drugs, whatever, it was only bad if you got caught. We got caught plenty, but I tell you, there's no feeling greater than getting away with it. Especially if the cops are actually running after you and you get away."
After the Oscars on Sunday, Leto and 30 Seconds to Mars will get back to work supporting their most recent album, Love Lust Faith + Dreams . They have a show March 8 in Helsinki, Finland, and also have dates scheduled in Europe, Russia, Asia and South Africa through July 17. No wonder then, that Leto's answer when asked by Q when he last woke up not knowing what country he was in, was, "Always."
"Touring the world," he adds, "you have to have the spirit of a vagabond."
Copyright 2014 ABC News Radio