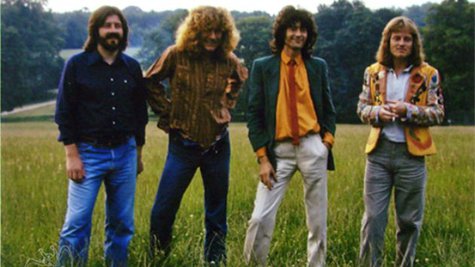 Rare rough mixes of songs Led Zeppelin recorded for its 1975 album Physical Graffiti are set to be auctioned off next month along with other studio tapes from a collection owned by famed producer and engineer Ron Nevison . The recordings will go up for bid as part of RR Auction 's Marvels of Modern Music sale, which runs from March 13 to March 20.
Among the items going on the block is a 10-inch tape that features an unreleased version of "Kashmir" that's titled "Driving to Kashmir," plus mixes of "Trampled Underfoot," "Custard Pie," "In the Light" and two takes of a rarity called "Swan Song." A second tape being auctioned includes raw recordings of "In My Time of Dying," "Sick Again" "The Wanton Song" and "Ten Years Gone."
The mixes date from February 1974, and were recorded at Faces bassist Ronnie Lane 's mobile studio at Headley Grange in East Hampshire, England. Some of the recordings are drastically different from the final versions of the songs, with some tracks lacking vocals and others featuring alternate guitar solos and various effects.
Other recordings being sold by Nevison include rough mixes from Bad Company , Eric Clapton , The Who , Ozzy Osbourne , Dave Mason and Turtles singers Flo & Eddie . Audio snippets of some of the tracks, including "Kashmir," have been posted on the RR Auction's official YouTube channel.
The Marvels of Modern Music sale also will feature a bevy of other rock collectibles, including Bob Dylan 's handwritten lyrics to "Lay Lady Lay," a signed vinyl copy of Meet The Beatles and an ornate cape worn by Elvis Presley on his 1973 Aloha from Hawaii concert special.
Copyright 2014 ABC News Radio